Diagnosis
On Sunday September 09, 2019, I brought my (then) 11 year old son Alex to our local emergency room for symptoms of a respiratory infection. He was not himself and had spent most of the day in bed. His symptoms seemed minimal, he was short of breath and lethargic, so I decided to bring him in to be diagnosed and treated.

Shortly after arriving, we were surrounded by a medical team and in a whirlwind of devastating news.
Alex was going into respiratory failure and his bloodwork showed signs of kidney failure.
Kidney failure? My son had been the picture of health aside from some hearing loss we discovered a few years prior. The hearing less we chalked up to genetics (some family members were born deaf and partially deaf on my mother's side) made adjustments and moved on.

Little did we know that there was something more sinister hidden in our genes.



Alex was intubated and stabilized before being transported to Connecticut Children's Medical Center for a 22-day hospitalization. A catheter was placed in his right chest and he started 24-hour dialysis treatments to rid his body of all the waste products that built up.



How could we not have noticed his kidneys were failing?

The doctors told us kidneys are sneaky like that because they do such a good job picking up the slack of the other organs until they just can't anymore. Unless we had been aware of a history of medical problems, we wouldn't have known to look for it. We didn't.

When Alex was able to breathe on his own we completed ultrasounds and a kidney biopsy. We discovered his kidneys were very small for his age and the biopsy showed significant scarring. They suspected Alport Syndrome as the culprit for his end stage renal failure diagnosis.

A few weeks later we completed additional DNA testing that confirmed he indeed has a rare genetic disease called X-Linked Alport Syndrome. Alport syndrome is a disease that damages the tiny blood vessels in your kidneys. It can lead to kidney disease, kidney failure, hearing loss and problems within the eyes.

Alport syndrome causes damage to your kidneys by attacking the glomeruli. Glomeruli are the tiny filtering units inside your kidneys. There is no cure for this rare genetic disease and our main goal now is to work towards a kidney transplant.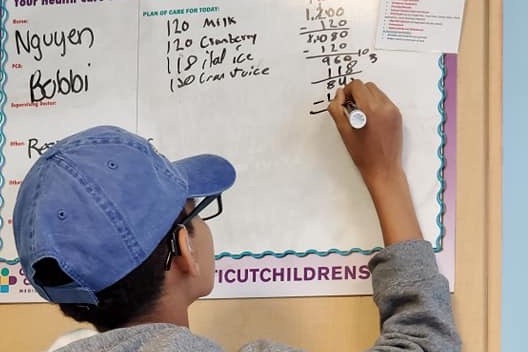 We have learned as much as we can, adapted to new diet and fluid restrictions and continues to monitor Alex's health closely. Alex has dialysis treatments three times a week and weekly follow up appointments. During this time our family and friends have found ways to support us including coordinating meal trains, gift baskets, and dialysis companions. We are doing all we can to mentally prepare for the transplant process.

However, Alexander has had to have multiple surgeries and inpatient hospital stays to address catheter malfunction issues in the months that have followed his initial diagnosis. Physiologically his life expectancy is reduced the longer he remains on dialysis and in need of a donor.


While we wait for our transplant warrior, we come to you humbly for support to spread the word. Our journey to the finish of this is a marathon and we need your help to complete it.


Pictured below from left to right: Alex's little brothers Cristian (age 6), Jeremiah, (18months) and Joshua (age 5).




Other ways you can help include:


Be A Living Donor:

If you or anyone you know are interested in donating, please reach out to our transplant coordinator Annie Landeen, RN by phone at 860-972-9727 and by e-mail at annie.landeen@hhchealth.org. You can also fill out the online living donor referral form using this link:

https://hartfordhospital.org/services/transplant-services/living-donor-referral-form

Become a living donor champion!

A Living Donor Champion is someone who helps spread the story of a loved one in need of a living kidney donor. The champion helps share their story and raise awareness about kidney disease, transplantation, and living kidney donation. The goal is to find a potential living kidney donor for their loved one. Contact Annie Landeen at 860-972-9727 for more information.